Shipping Related:
# Is shipping charged on back orders?
Yes, shipping is charged.

Sometimes we may not have a product you ordered. In this case, we ship the rest of your order and refund you for the missing items. The order is then considered fulfilled.

Later, when the missing product comes back in stock, you can ask for it to be shipped to you. But as this is a new order, shipping is charged.
# What happens if Canada Post goes on a strike?
In case Canada Post goes on a strike, your orders will be prepared and sent out via UPS Standard even if you selected Canada Post Expedited as your method of shipment.

We may need to request additional payment for shipment if the additional cost of shipping through UPS is significantly higher.

We are very sorry for the inconvenience. Please contact us if you have any questions. We will do our best to ensure that your package steers clear of the chaos.

Enjoy the weather!

-Budget Electronics
# How long does shipping take?
Any orders received before 2 pm, we will try to ship the same day from our warehouse in Toronto, Canada.

On average, it can take between 2 to 5 business days for you to receive your order. All products are shipped using Canada Post Expedited unless requested otherwise. You can select your preferred shipping method from within the shopping cart.

Here is a general guide for shipping times: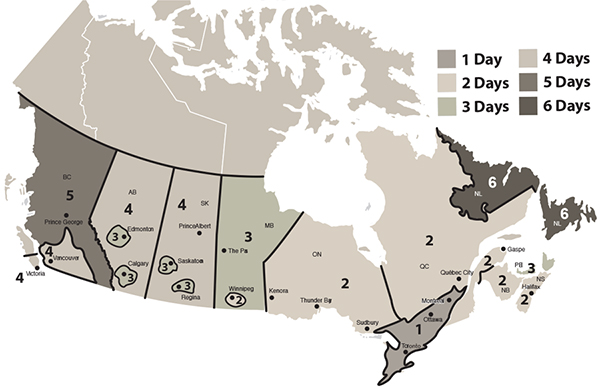 # What shipping methods do you use?
The shipping methods we offer are molded around the needs of our customers. Some customers, especially cell phone repair shops, need products overnight and are willing to pay a higher price for shipping. Here are the shipping methods we provide:

- Canada Post Expedited (recommended for most orders)
- Express(UPS Standard or Purolator Ground)
- Priority(Purolator Air or UPS Fastest)

We are able to offer our customers excellent shipping rates thanks to our high-volume relationship with the above companies.
# Do you offer drop-shipping?
Budget Electronics does not offer drop-shipping service at the moment.
# Where do you ship products from?
All products are shipped directly from our warehouse in Toronto, Canada.
Purchasing Related:
# Do I need to be a registered business to open an account with you?
We want to win your business, and as such, we have made it easy for customers to do business with us. You do not need a business license to open an account with us.

However, we do require that you purchase for reselling purposes only as we don't provide wholesale prices to walk-in individuals. Our wholesale prices are strictly for business owners.

You can quickly open an account with us using the website. Or visit us at our warehouse.
# Do you require a minimum order quantity?
Budget Electronics does not have a minimum order quantity (MOQ) policy in place. We want you to be able to buy as much or as little as you require for your business.

Products that do have an MOQ are usually items that we have to source from our partner wholesalers - and some partners require that we buy at least a minimum quantity. But over 90% of the products on the website can be purchased in any quantity you prefer.

We do require that all businesses purchase at least $40 worth of products per total transaction - this is simply to prevent individuals from purchasing from the website.
# Do you offer more discounts if I buy bigger quantity?
Yes, absolutely. One of our unique offerings is that we provide volume discounts for products purchased through us. The more you buy, the greater the discount. Volume discounts are shown directly on the product page - and they are automatically calculated for you based on the quantity you order.

There are a few items that don't offer a volume discount due to low margin.
# Can individuals buy from Budget Electronics?
Budget Electronics is a cell phone accessories wholesaler. As such, we offer wholesale prices only to re-sellers.

Individuals can visit our warehouse for products, but the prices charged are higher than the wholesale prices shown on the website.
# Can I visit your warehouse?
We love to meet our customers. You are welcome to visit us at our warehouse in Toronto, Canada. Please see the contact page for our warehouse opening hours and exact address.

Customers can buy from our website or the warehouse. The products offered on the website are the same products carried in the warehouse.
# Are there more products available in the warehouse than the website?
No, the warehouse and the website have exactly the same variety and number of products.

Most customers prefer to place their orders through the website. So we make sure the website is always up to date with all the products available at our warehouse.
# How do I select colors for products I want to purchase?
You can pick the colors for products by offering us instructions from within the shopping cart. We pick the best selling colors for you if no instructions are provided.

Here is how to leave instructions for us: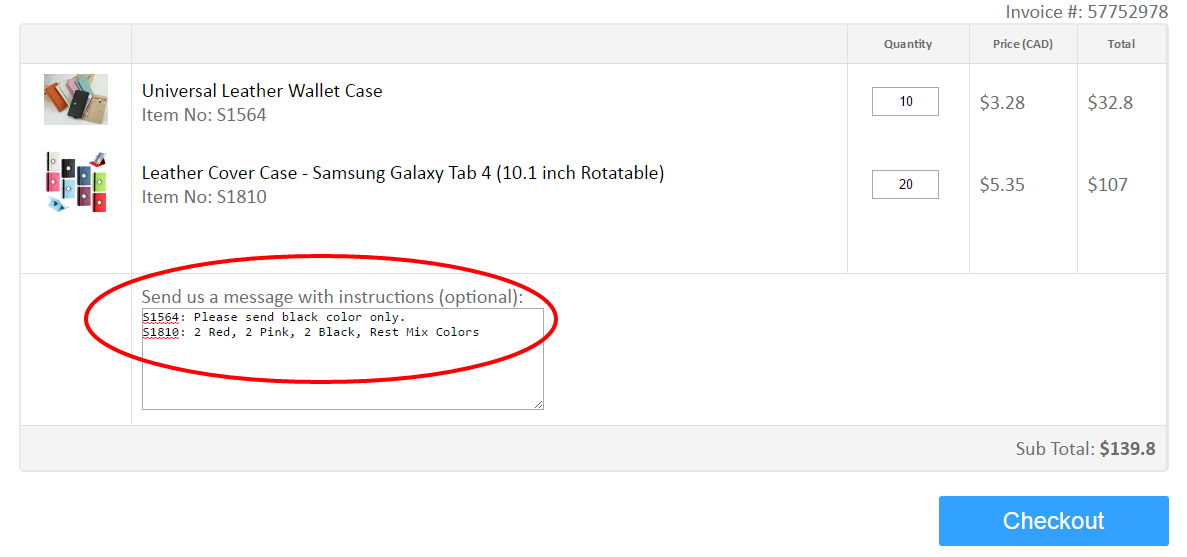 Colors for some products can be selected directly from the product page: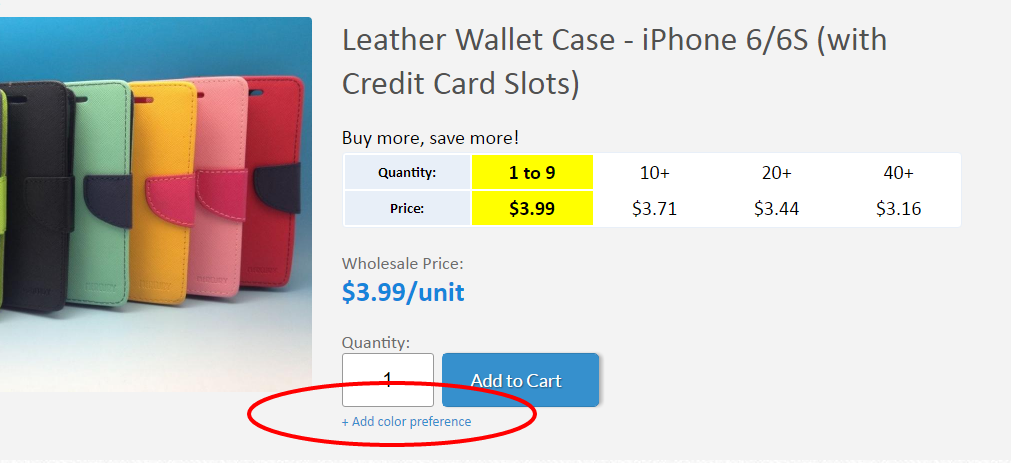 # Is everything on the website in stock?
Yes. Everything visible on the website is in stock. We simply remove products from the website once they are out of stock.
General:
# What is the new warehouse location?
We are excited to announce that Budget Electronics is moving to a new warehouse on Monday. The new warehouse is located at the same plaza but a different unit:

New Address:
2450 Finch Avenue West, Unit #5
North York, Ontario
Canada
M9M 2E9

A bigger warehouse will help us serve you better through greater stock availability and product selection.

We thank you all for the continued support without which none of this would be possible. Thank you!

Team Budget
Products Related:
# Do you wholesale branded products?
We carry some branded products (for example, Kingston memory cards) - but for the most part, we specialize in offering a wide selection of after-market cell phone accessories.

We frequently visit our factories in China to ensure a high standard of quality is met. We don't compromise on quality. Instead, we buy these products in high volume in order to keep the costs down and pass the savings to you.
# Do you test cell phone LCD's before shipping them?
We test nearly all cell phone LCD's that are sold to customers.

Here at Budget Electronics, we known that cell phone LCD's are fragile and sensitive to damage. Therefore, we do our best to source high quality screens and have them tested before selling.

We have LCD testers available for most major phone models. Some screens we are unable to test simply because the tester is not available.

Thanks to our amazing warranty process, you do not need to worry about losing money on products bought from us.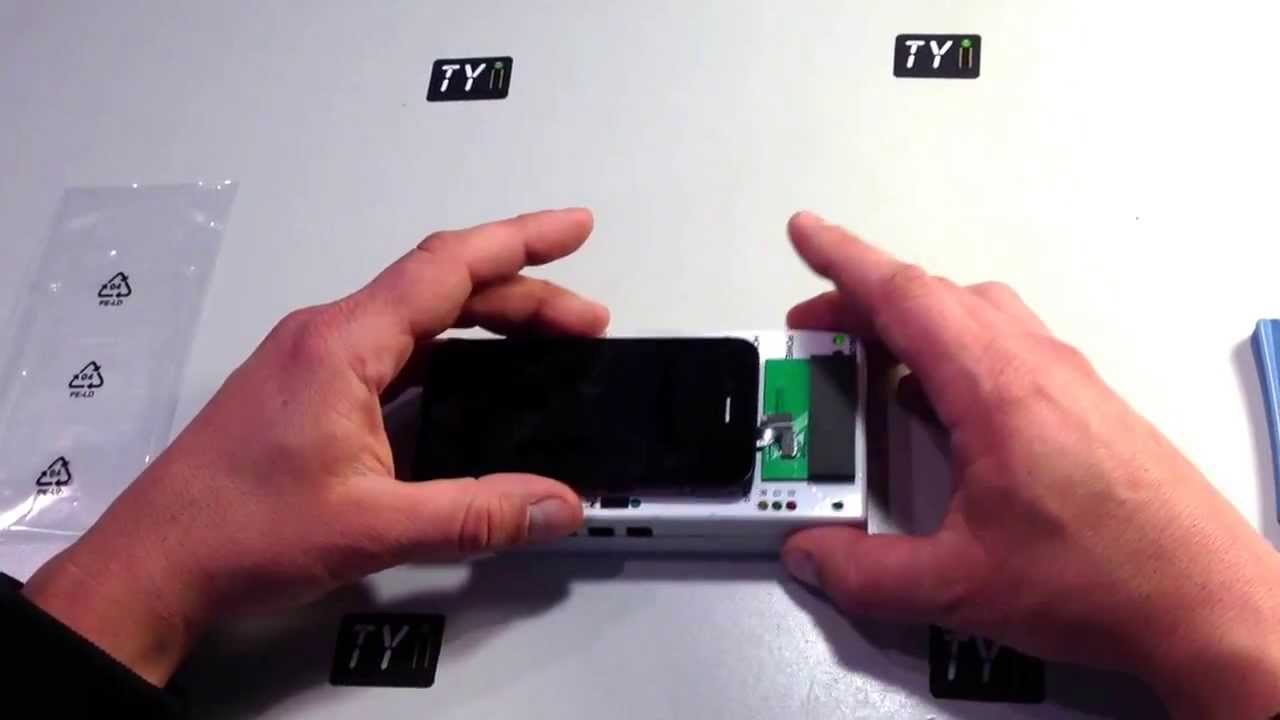 # Do you wholesale cell phones?
We don't sell cell phones.

Our team is committed to providing the best service to our customers - and this means that we have to forgo some things in order to maintain focus on what we do best. Wholesaling cell phones is not our forte. But we are the best cell phone accessories provider in the market.
# Do you wholesale devices to unlock phones?
We used to provide unlocking devices to cell phone retailers. But experience has taught us that unlocking devices are unstable, and sometimes unsafe, to use. Therefore, we have stopped providing unlocking devices until better devices are available on the market.
# Do your products come in packaging?
Packaging is a very important tool for maximizing profits at retail shops. We strive to offer products in the best packaging available. Nearly all of our products come in packaging.

Cell phone cases are a slight exception to this. We have found that cell phone cases sell better in regular packaging. But we do offer box packaging for cell phone cases available separately if needed.
# Are your cell phone LCD's refurbished?
Nearly all cell phone LCD's on the market are refurbished - including the ones claimed to be OEM.

Our LCD's are no exception to this. However, we purchase the highest grade of screens and thoroughly test them to ensure you get the best parts.
Warranty Policies and RMA:
# How long does it take to process RMA?
Returns or damages can take between 3 to 5 days to process once the package has been received. During this time, we verify if the damage is a result of manufacturing defect or incurred due to misuse.
# Warranty Policy
Budget Electronics treats all customers as partners in the wireless industry. Our flexible warranty policies, therefore, reflect our belief in maintaining a long-term business relationship with our partners.

We offer product returns or replacements up to 90 days of purchase and 30 days on parts. Please note, the products must be returned in original condition. We offer full refund or replacements as requested for any product with manufacturing defects. The eligibility of manufacturer's warranty is determined by us or the manufacturer. Products are not eligible for warranty if the fault is determined by us to be that of the client.

Also note, products returned back to us may incur a 20% restocking fee.

*Conditions apply*
# Return Merchandise Authorization Form (RMA)
Please fill the following form and include it with the merchandise being returned to us. The RMA form helps us track your returns so we may process them in a timely manner:

Link to RMA Form
Payments Related:
# What payment methods do you accept?
We accept a variety of payment methods for orders placed on our website:

- PayPal
- Credit Cards (Visa/Mastercard)
- Bank to Bank e-Transfer (Interac) to info@BudgetElectronics.ca

Please note that you can use PayPal to purchase from us even if you don't have an account with them. Simply fill out the credit card billing information on the PayPal page through the website in order to purchase without joining PayPal.

You can also pay via cash if you are visiting our warehouse.
# How do I buy from you if I don't have a PayPal account?
You don't need a PayPal account to make payment through PayPal.

Once you submit the order, simply fill in your credit card billing information on the PayPal page. You will be able to complete the payment without creating a PayPal account.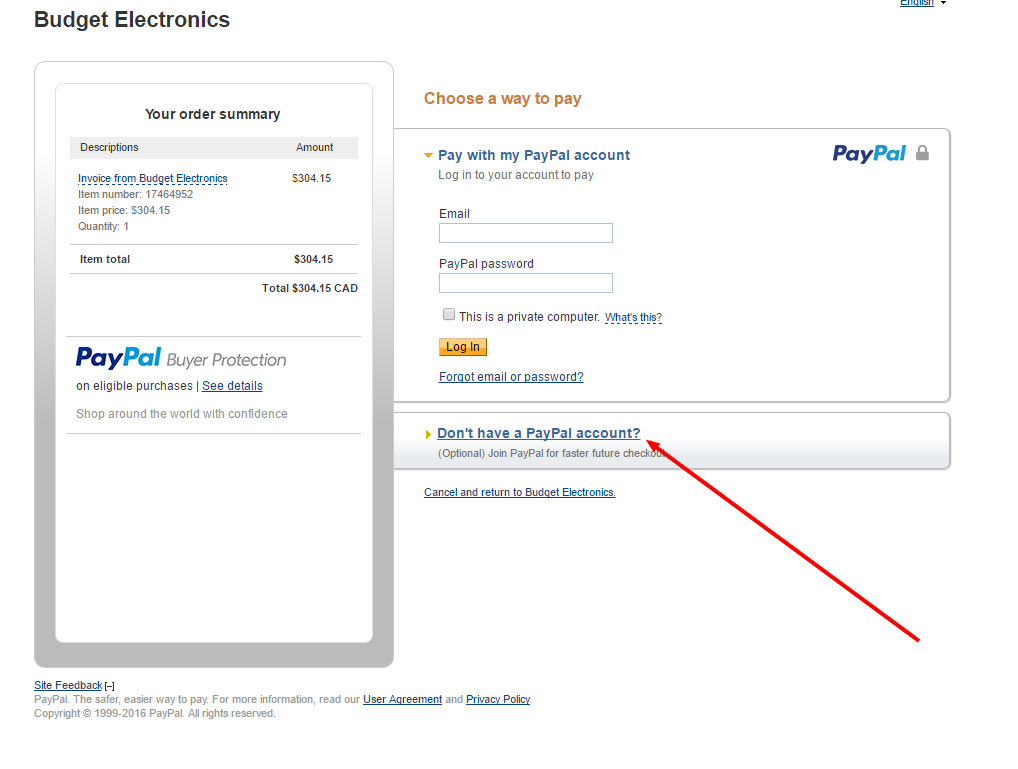 # Do you offer payment terms?
We don't offer net payment terms.

High inventory turn over rate is one of the big advantages of starting a cell phone business. New phone models, and accessories for them, become available almost every week. But this also means that, everyone in the cellular industry, needs to stay on top of the market.

Therefore, we need to continuously invest in new products in order to provide you the latest cell phone accessories. This requires that we always keep a healthy cash flow. This is why we don't offer net-terms for orders.
# What sales tax do you charge?
Budget Electronics is located in Ontario, Canada. So we charge 13% HST for customers located in Ontario. The tax rate charged depends on where it is being shipped. For example, products shipped to Alberta are charged a sales tax rate of 5% GST.

The tax rate charged is automatically calculated in your shopping cart. You can read more about tax rates on this website.